First Graduation Day Celebrations @ ISiM
The International School of Information Management (ISiM), University of Mysore, celebrated its first "Graduation Day", on Monday, the 11th of April, 2011.
Executive Director of ISiM, Prof. Shalini R. Urs, welcomed the gathering, and rightfully pointed out that Graduation Day represents a transformation in the lives of the graduates, who now step into much greater responsibilities in life.
Dr. P. Anandan, Managing Director, Microsoft Research India, Bangalore, was the commencement speaker. In his speech, he highlighted the various kinds of transformation that we, Indians, have seen over the ages, and that the only reason why we keep innovating, is that we don't stop aspiring. He stressed upon the fact that we should always aspire to greater heights, and work hard towards achieving them. His main advice to the graduates was that aspirations should be the driving force in their lives, and that they should not be limited by success.
Also speaking on the occasion was the Chief Guest for the ceremony, Shri M. N. Vidyashankar, Principal Secretary, e-Governance, IT, BT and ST, Government of Karnataka, who rightfully said that constant innovation is the only way for organizations to sustain in the current global scenario. He also said that one of the main hurdles in the path of constant innovation was the non-acceptance of technology by members of the general public. Shri Vidyashankar highlighted an example each for the success of using technology at their department and for the failure of an innovative education system due to the non-acceptance of technology. He also threw light on the fact that though Indians have significantly contributed to the research and innovation successes at Silicon Valley (California), they have not played such a major role in research activities in India, and advised the students to work towards a career of innovation.
Vice-Chancellor of the University of Mysore, Prof. V. G. Talawar, also addressed the gathering, and supported the remarks made by the other dignitaries, and advised the graduates and the students present to choose a path of wisdom and innovation.
The dignitaries distributed the degree certificates to the graduates. On the occasion, two graduates, Mr. Nabhajit Ray (M.Tech Class of 2009) and Mr. Nikesh N (M.Tech Class of 2010), were awarded the "Parvathamma Subbaraya Gold Medal", instituted with munificent grants from Dr. Chudamani, an alumnus of the University of Mysore and currently, the Deputy Librarian at the Indian Institute of Science, Bangalore.
Dignitaries with Gold Medal Winners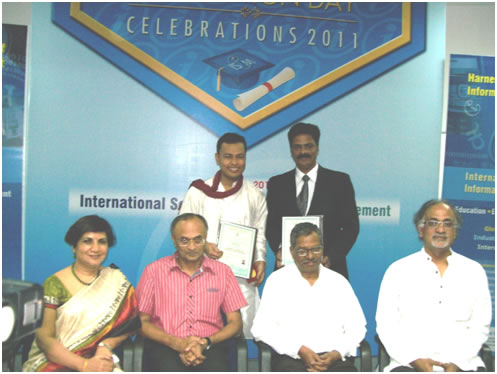 Gold Medal Winners Mr.Nabhajit Ray and Mr.Nikesh N