ISiM Graduation Day 2012
Chief Guest
Prof. H.A.Ranganath
Director, National Assessment and Accreditation Council, Bangalore
Commencement Address
Prof. Ramakrishna Ramaswamy
Vice Chancellor
University of Hyderabad, Hyderabad
Presided by
Prof.V.G.Talawar
Vice Chancellor
University of Mysore, Mysore
Report:
The distinguished personas were welcomed by ISiM's Executive-Director Dr. Shalini Urs. The ceremony was attended by ISiM students, parents and friends of the graduates, and guests of ISiM.
Prof. Shalini Urs greeted the graduates, dignitaries, and audience and introduced Dr. Ramakrishna Ramaswamy, Dr. H. A. Ranganath and Dr. V. G. Talwar to the gathering, highlighting their academic accomplishments and laurels, as well as their journey to the distinguished offices they presently hold. Ms. Punyashree then called on Dr. Ramakrishna Ramaswamy, Vice-Chancellor of University of Hyderabad, to deliver the Commencement Address.
Commencement Address by Dr. Ramakrishna Ramaswamy:
Dr. Ramaswamy's address was intellectual and inspiring. He began by reflecting on his experiences with ISiM throughout the years – from the birth of the institution to the present – and how he "learned to appreciate the prescience of the vision of Prof. Urs that led to the establishment of the institution, its increasing need and its value in the contemporary world". He expressed the overarching importance of information in today's world, and stressed that effective management of this information is especially critical for the future.
Addressing the students directly, he said, "one of the biggest challenges that you Face is that the information that you need is often not available in the form that you need it in… the paucity and unreliability of data – is an issue of considerable importance" He expressed his wish that ISiM students be creators of manageable information. He stated that "as a nation, we are poor archivists…this is one reason why we have such a poor sense of history – when you do not archive, you have no records to remind you of what was done and why." He explained that ISiM students have the knowledge, skill, and duty to protect our country's various vanishing regional histories, oral traditions, and cultural identity.
He also noted a second challenge the country faces – that of numbers. Around 200 – 500 million Indian students will enter the learning stream in the next few decades, and all will be thirsty for knowledge. ISiM students can find opportunity for impact by developing efficient ways to manage knowledge and instruction.
He admitted that the enormous scale of both challenges make it clear that the solutions have to be digital, and extensive efforts to digitize content are needed to preserve information and allow wider accessibility.
He ended his talk on a cautionary note, conveying to the students that "time does fly by, and before you know it, situations change, technologies change, expectations change" and that "burnout is a very real and ever-present danger". However, he stressed the importance keeping enthusiasm, fresh perspectives, and inspiration alive. He concluded with the poem "Ithaca" by Constantin Cavafy and wished ISiM students great success in their future.
Dr. H. A. Ranganath, Director of the National Assessment and Accreditation Council (NAAC), Bangalore, focused his speech on Autonomy and University governance in higher education. He encouraged University of Mysore to provide similar autonomous status, as enjoyed by ISiM, to other well equipped departments. He advised that once other qualified departments became autonomous, they would be in a position to deliver curriculum that reflected current times and future needs of the country. Autonomy would also foster innovation in education required by a developing country. He advised that institutions have good infrastructure before enrolling students and have strong collaborations with other institutions in higher education. He emphasized that universities should have inter-disciplinary centers and promote research through a holistic approach. He reiterated that the changing dynamics of the country's higher education needs required a new paradigm for the higher education systems.
Awards
The dignitaries presented certificates to the 34 graduates of 2011 from ISiM, who had completed the two-year full-time M. Tech program in Information Systems & Management from University of Mysore. Mr. V. S. Raghav was awarded, the "Parvathamma Subbaraya Gold Medal" instituted by ISiM for the top scorer, at this 92nd annual convocation of University of Mysore.
Presidential Remarks
Honorable Vice-Chancellor of University of Mysore, Dr. V. G. Talwar, thanked all the dignitaries for their presence, their comments and advice. He congratulated the graduating students and wished them success. He wished ISiM's continued success and hoped to see further activity in promising new areas on campus and bring prominence to University of Mysore.
Concluding Remarks
Prof. Shalini Urs congratulated the new M. Tech degree holders and wished them the very best in their careers and their future.
The 2011 batch is the 4th batch to graduate ISiM, and will soon bravely venture out into the domain of the Big Data phenomenon created by the increasingly inter-networked world of digital devices. The amount of information that needs to be stored, organized, and managed is exponentially increasing – seemingly without limits – and ISiM students will be the brave pioneers in the field of Information Organization and Information Management. As they progress in their careers, they will create the new profession of Information Management as a category of its own in the IT world – and leave their mark on society.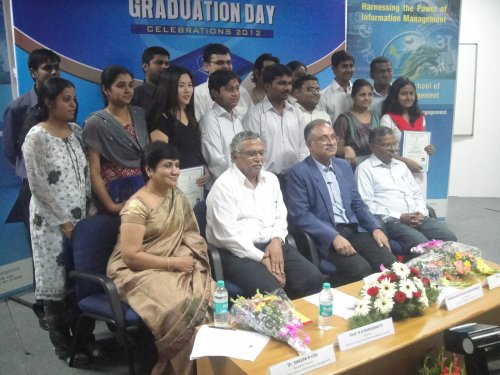 Dignitaries with M.Tech Graduates 2012