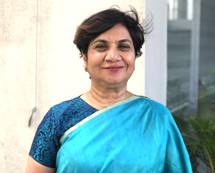 Founder Chairperson and Trustee
MYRA School of Business, Mysore – 571130
&
Former Founder Director and Professor
International School of Information Management
University of Mysore
Mysore – 570006, India.
Dr Shalini R Urs is an internationally recognized academic who began her career in the academia 44 years back, joining the University of Mysore as a lecturer in the Department of Library and Information Science in 1976. She is an institution builder whose brainchild is the MYRA School of Business (www.myra.ac.in), which she founded in 2012. She also founded the International School of Information Management (www.isim.ac.in) — the first Information School in India, as an autonomous constituent unit of the University of Mysore in 2005. She is currently involved with Gooru India Foundation as a Board member (https://gooru.org/about/team) and is actively involved in the implementation of the Gooru Learning Platform in India, and building the Indian Learning Collective. She has served as a UNESCO expert on several occasions and was commissioned to conduct many studies in the last twenty years. Her contributions have won her several awards.
She was a Fulbright scholar and a visiting professor at the Department of Computer Science, Virginia Tech, the USA during 2000 – 2001; an adjunct faculty at the International Institute of Information Technology, Bangalore (IIITB) during 2005-2007; and a visiting professor at the Indian Statistical Institute, Bangalore during 1998 and 1999.
Passionate and dedicated to digital scholarship, she has lead many digital initiatives in India. She pioneered the Electronic Theses and Dissertations Movement in India in the year 2000 and won the Microsoft Grant for implementing UNICODE for Indian Languages in 2003. Adobe Leadership award in 2004. She conceptualized and developed the Vidyanidhi Digital Library and eScholarship portal (www.vidyanidhi.org.in) in the year 2000 with funding from the Government of India, which became a national initiative with further funding from the Ford Foundation. She built an online digital library way back in 2000, much before the digital era captured the imagination in India.
As an information scientist, Dr Urs takes a 360-degree view of information and has researched on issues ranging from the theoretical foundations of information sciences to Informatics. Her areas of research include— eLearning and digital libraries, Ontology Development, and Social Network Analysis. She has published nearly 200 papers in international journals and peer-reviewed conference proceedings published by Springer, Emerald, and others. Her research publications focus on Social Network Analysis, Security Informatics, and Ontology Development. She has also edited a couple of books published by Springer under their LNCS (Lecture Notes in Computer Science) series.
Widely travelled (to more than 25 countries), invited to speak at various international and national conferences and academic events, Dr Urs speaks on wide-ranging topics focusing on primarily 'Technology for Learning and Development'; 'Digital Libraries'; and 'Social Network Analysis.'
Dr Urs has won many awards—including the Best Paper Award at Infotex 1995; Adobe NDLTD – Leadership award in 2004; Emerald Research Fund Award 2007-08. She was awarded the Mortenson Distinguished Lecturer 2010 by the University of Illinois Urbana Champaign, USA. She was conferred with the Women Leadership Award by Dewang Mehta Business School awards in 2014 and Education Evangelist Award of India award by Skill Tree Foundation in 2015 for her outstanding contribution to higher education.
With decades of experience in academia and educational entrepreneurship, she initiated many innovative programmes, founded the International School of Information Management in 2005 and the MYRA School of Business in 2012. Currently she is on a sabbatical from the executive position at MYRA and is focused on consulting, writing
and her advisory role as a Board Member of Gooru India Foundation.
Useful Links