The American Library, U.S. Consulate General, Chennai and ISiM present Panel Discussion on "Defining Internet Freedom"
August 26, 2010 @ 3:30 pm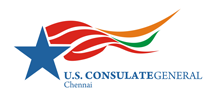 In collaboration with the American Library, U.S. Consulate General, the International School of Information Management (ISiM), University of Mysore, is organizing a panel discussion on the theme "Defining Internet Freedom". The objective is to understand the issues and challenges of the freedom of internet.
Governments and societies across the globe have adopted diverse legal and policy positions on the issue of internet freedom. The notion of internet freedom remains an enigma, and has raised many threats such as privacy, copyright and others.
The question remains how much freedom is too little or too much. This panel will dwell into these issues and contribute to better awareness and understanding of the same.
Hillary Clinton, the U.S. Secretary of State, in January 2010 said that the Internet was a new nervous system for our planet, and that information had never been so free. How different governments and societies confront these new and transformative technologies is the subject of the June 2010 issue of eJournal USA, published by the Bureau of International Information Programs of the U.S. Department of State. This issue can be accessed on the internet at: http://www.america.gov/publications/ejournalusa.htm#0610
We would like to invite you to participate in this event and contribute to the rich interactions.
This event will be chaired by Ms. Corinna E. Ybarra Arnold, who is the Cultural Affairs Officer at the U.S. Consulate General at Chennai. She will also be leading the discussion. The event will be presided by Prof. V. G. Talawar, the Vice-Chancellor of the University of Mysore, who will also be moderating the discussion. The panelists include Prof. Shalini R. Urs, the Executive Director of ISiM, along with Ms. Corinna E. Ybarra Arnold, and Prof. V. G. Talawar.
Panelists:
Ms. Corinna E. Ybarra Arnold
Cultural Affairs Officer, U.S. Consulate General, Chennai
Prof. V. G. Talawar
Vice-Chancellor, University of Mysore
Prof. Shalini R. Urs
Executive Director, International School of Information Management, University of Mysore
Event Date: August 26, 2010
Time: 3:30 PM
Programme:
3:30 PM Welcome by Prof. Shalini R. Urs
3:35 PM Address by Ms. Corinna E. Ybarra Arnold
3:40 PM Panel Discussion on "Defining Internet Freedom"
5:30 PM Closing Remarks by Prof. Shalini R. Urs
5:40 PM Tea
For more information, please contact:
Athif Mohammad
Phone: +91-9886772356
E-Mail: office@isim.ac.in