Special Lecture (19) "Second level gatekeeping and Content Concentration in Twitter: An Analysis of the 2009 Gaza Conflict"
January 16, 2012 @ 11:00 am
International School of information Management (ISiM) organised a Special Lecture (19) on "Second level gatekeeping and Content Concentration in Twitter: An Analysis of the 2009 Gaza Conflict" on 16th January, 2012 at 11:00 am by Prof. H. Raghav Rao, SUNY Distinguished Service Professor, Management Science and Systems Department, University at Buffalo, State University of New York, USA.
Brief Report of Special Lecture:
This special lecture by Prof. H. Raghav Rao focused on how Twitter users not only consumed news worthy information, but behaved as broadcasters of the information to other users at the same time. The rise of social media allows the online public to actively participate in processes of online news creation and circulation. Social media-based user-to-user communication not as a consequence of the reception of news, but as an additional step in the news production chain.
The lecture highlighted what distinguished Twitter from traditional news media filtration, wherein the consumer did not have a role, to where the receiver played a critical role as 'gatekeeper' in social-media networks and impacted news distribution. User's information selection is not merely a passive consumption of information: accompanies the practices of "sharing," redistributing the information they choose. Twitter Users act as Redistributors thus they are both audiences and broadcasters.
Prof. Rao's research and analysis presented how rise of social-media has encouraged public to actively participate in online news creation and also perform additional steps in news production chain. Such research help u the role of social media users (i.e. Twitter) in a news gatekeeping process and also study global diffusion of breakout news in social media (i.e. Twitter).
He also demonstrated how 'second-level 'gate-keeping occurs by users of Twitter from examples of analysis of the "2009 Gaza Conflict" using statistical hypothesis testing, and how it follows exponential decay law with time. He discussed in his lecture in detail about the temporal nature of news broadcast via Twitter as it concerns news worthy events that have limited life span. He concluded the lecture with lessons learned from research about current social-media capabilities and their limitations in being news broadcasters to the global community at large.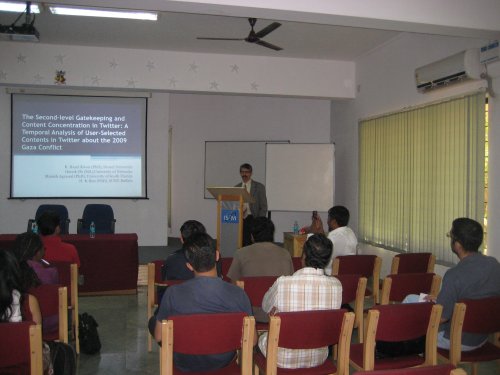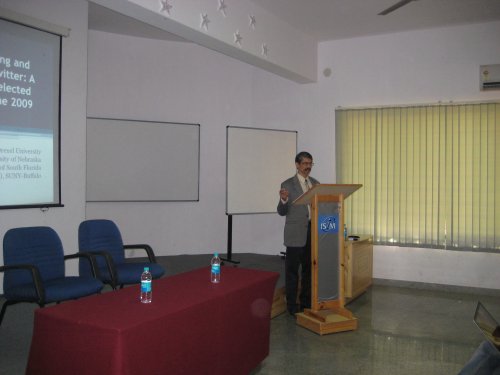 Prof.Raghav Rao at the lecture