ISiM Industry Talk Series on Entrepreneurship (4) "Driving Marketing & Sales for an Entrepreneur" By Mr. Sunder Madakshira Vice President – Marketing and Communications SAP Labs India Date and Time: July 03, 2012 10:30AM
Click here for a brief report of the talk
Abstract:
Marketing can be effective without being expensive, though it costs a lot in terms of imagination. Struck by the notion of creating "big bang" impacts, marketers gravitated to advertising on television and print. Consequent to rising media costs and increasing media clutter, the verdict on these media is "low return on investments."
What do companies which are startups do then to create an awareness and engagement with customers? In this session on "Driving Marketing and Sales for an Entrepreneur" Mr. Sunder Madakshira, Vice President – Marketing and Communication, SAP Labs India discusses these issues and provides 18 tips on marketing which help companies with limited financial resources but infinite power to imagine, creating a brand for themselves at no costs.
Speaker Bio: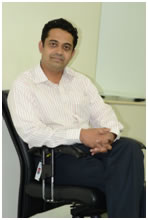 Sunder is Vice President – Marketing and Communication, SAP Labs India. His passion is generating and executing ideas which give disproportionate leverage in the market. For the past 18 years, he has worked and learnt from path-breakers and game changers in communication to customers, talent pool and other corporate stakeholders.
His areas of focus at SAP are building Influencer Relations, PR, employee engagement and customer evangelism. He has held leadership roles in the sales and marketing functions in Unilever, Infosys and WIPRO before his current role.
He has driven wide range of marketing functions – market research, traditional and new age advertising, competition intelligence, category management, talent branding, internal communications and marketing process administration.
He has spoken at many industry and academic forums including at CII, NASSCOM, IIM Bangalore and IIM Calcutta on the topics of interest in Marketing.
At the NASSCOM Emerge Forum in 2011 and 2012, he presented sessions on "18 Tips on Zero Cost Marketing in 36 minutes" and "Organizational Growth through Personal Branding". These have been received well by participants.
He holds a Post Graduate Diploma in Management from the T A Pai Management Institute, Manipal (TAPMI) and an Engineering Degree from the R V College of Engineering, Bangalore. He has finished top of his class throughout his academic career, winning the prestigious Agro Evo Gold Medal award to the Best Outgoing Student at TAPMI and a Gold medalist from Bangalore University.
A keen carnatic music enthusiast, he is learning to play the Veena as a passionate hobby.