InfoVision 2012
The 6th edition of InfoVision will be held on October 19 & 20 at SAP Labs, Bangalore. The theme of InfoVision 2012 is " SMAC ( Social, Mobile, Analytics, Cloud) is smart".
SMAC is the latest acronym to enter the jargon-filled technology space. SMAC--an acronym for Social, Mobility, Analytics, and Cloud has entered the business conversations in a big way. Experts and business heads believe that SMAC will help companies to ride the next wave of business opportunities and is also expected to help Indian companies to innovate and move away from traditional business models. Industry veterans see an integrated SMAC to change the way companies do business in future. Based on the industry trending, a unified Social, Mobile, Analytics (Big Data predominantly) and Cloud based solutions appear to be the 'next big thing'.
The combined potential of SMAC technologies is estimated to be $70 billion to $200 billion over the next three years. And, that's the reason why most of the software vendors today are betting on SMAC.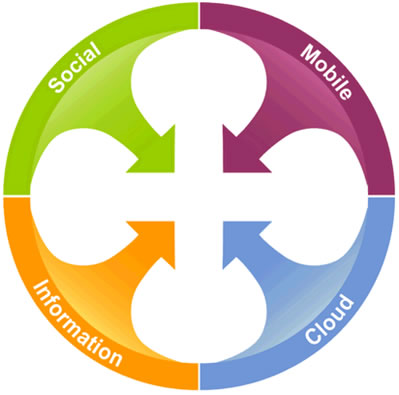 Source: Gartner Report
Research firm Gartner terms it as the nexus of four IT forces — cloud, social, mobile, and information (in other words analytics). Those forces, along with the continued impact of consumer spending, are expected to essentially set the stage for the next generation of capabilities that drive new business scenarios.
InfoVision is a summit series initiated in 2005 with the aim of creating a platform for bringing together academic researchers in the information sciences and technologies and business heads in the information industry to discuss and deliberate on a chosen theme. Experts from the industry and the academia join the debate and share their views. Best practices and success stories are showcased. InfoVision is an intellectual confederation of all stakeholders – academia, industry, government and the user groups, to meet as partners and to develop a unified framework and formulate strategies for capitalizing knowledge for performance.